Thunder Laser
Jump to navigation
Jump to search
Laser Cutter
Thunder Laser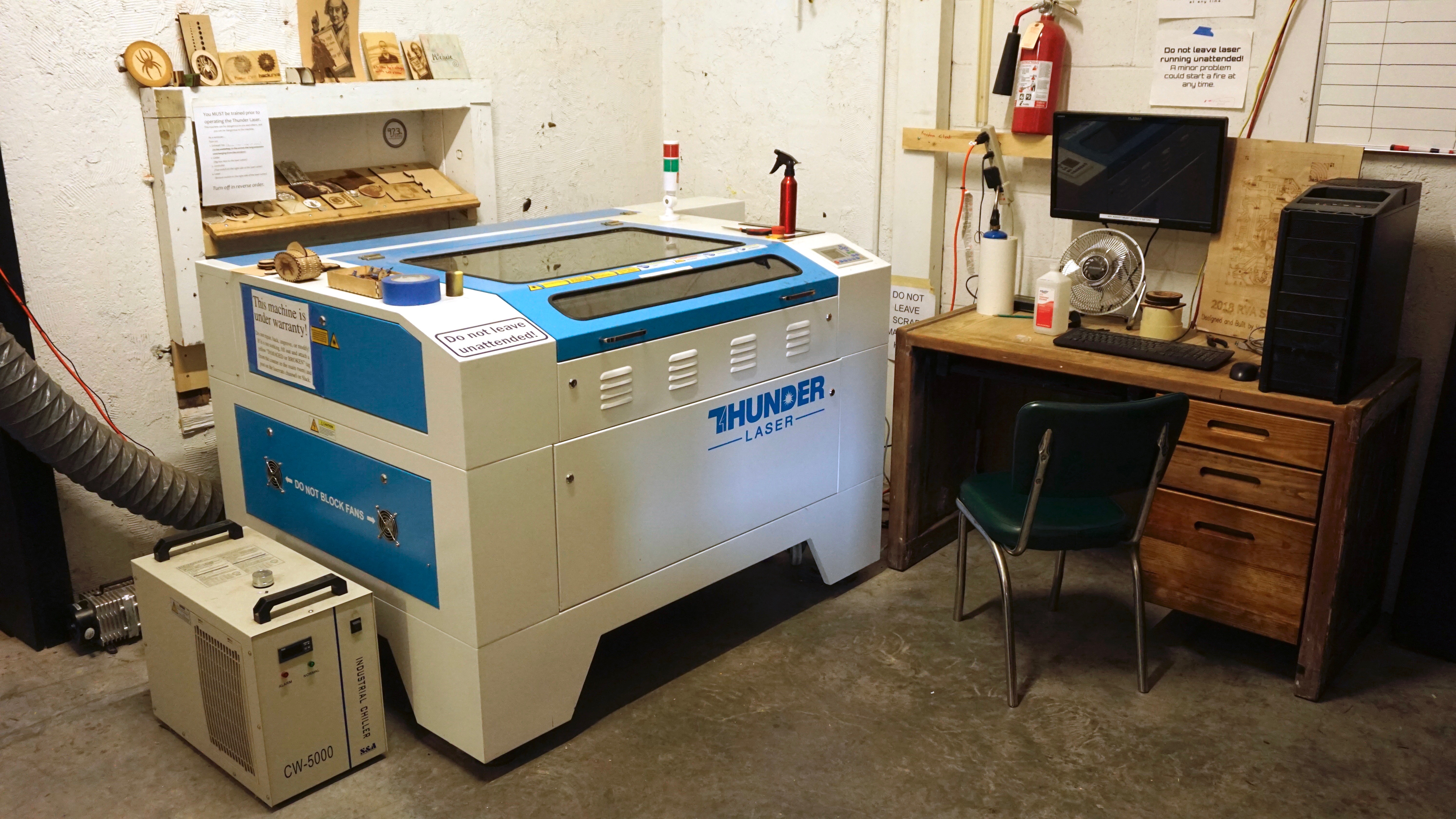 Thunder laser - Nova 35 from ThunderLaser.com
900mm x 600mm x 230mm (35.4" x 23.6"x 9.1") 100 Watts of Power
Cuts up to 1/2 inch material Materials which can be cut include:
Plywood
Acrylic
Paper, card stock, and poster board
Vegetable tanned leather
Craft foam
All of those can also be etched, meaning an image is burned into the surface. Other materials can be etched, like glass, ceramics, or paint.
Materials which can not be cut include:
Vinyl (including fake leather, Naugahyde, "Moleskin" notebooks, etc.)
Poly-carbonate (it cuts but then melts back together)
Metal (It can burn off the protective paint, but the metal will not be affected.)
Styrene, styrofoam, foamcore (They tend to catch fire, and they also produce lots of sooty residue)
Also, some other materials produce excessive soot, smoke, or fine threads of molten plastic that can clog the exhaust system. The fan is very hard to clean. Please be aware of what your cut is producing!
Access and Training
Access to the Laser Cutter requires training from a qualified member.
Helpful Links
Thunder Laser video tutorials:
http://www.thunderlaser.com/video
More Thunder Laser information:
Thunder Laser Knowledge-Base
Lightburn documentation:
https://github.com/LightBurnSoftware/Documentation/blob/master/README.md

Lightburn video tutorials:
https://lightburnsoftware.com/pages/tutorials
A 30 day trial is available at
lightburnsoftware.com

Advanced Techniques (ie comparing changing one variable, like Interval or Focus link):
www.thunderlaser.com/video/advanced-tutorial.html
Vector Graphics: en.wikipedia.org/wiki/Vector_graphics
Image Formats: en.wikipedia.org/wiki/Image_file_formats
Boxes - folding paper or cardboard: www.templatemaker.nl/
Gears:
Box finger joints: www.MakerCase.com
Boxes.py - wonderful box designs and more. Website and plugin www.festi.info/boxes.py
www.SVGNest.com - nests shapes for efficient cutting
Epiloglaser.com "Sample Club". Lots of practice projects.
www.epiloglaser.com/resources/sample-club.htm